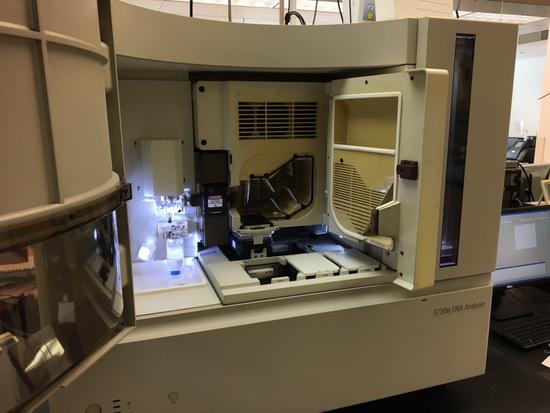 DNA Sequencer
Operated by Core Staff
 
Applications
This instrument is used by core personnel to sequence DNA templates
Sequencing of cloned inserts or PCR products is done by DNA polymerase-mediated linear amplification of templates in the presence of mixtures of dNTPs and fluorescently-labeled dideoxynucleotide triphosphates (Sanger method), followed by fractionation of the extension products by capillary electrophoresis using the 3730xXL.
Although Sanger sequencing is well established and lower throughput that modern NGS sequencers, it is still the gold standard in terms of accuracy and is still used worldwide for the low cost sequencing of plasmid and PCR templates.
 
Specifications
This is a capillary sequencer capable of processing 96 template samples simultaneously; up to ~4000 samples/week.
Standard sequencing PCR reaction conditions are:

96 degree C denaturation 30 seconds 
50 degree C extension for 15 seconds  
60 degree C extension for 4 minutes 30 seconds
A total of 35 cycles are used
We use conditions that should work for most templates. Please consult with Genomics Core staff for troublesome templates requiring different conditions.
Submit templates in either individual reaction tube format or cost-effective plate format.
See Sanger Sequencing Services for directions about sample submission utilizing this instrument.